Cambridge Property Management Services
WordPress, Responsive Design
Cambridge Property Management Services reached out because their website hadn't been changed in nearly 20 years! It was hard-coded and extremely hard to edit. I made them a brand new build on WordPress with a clean, modern look that's easy to keep updated so they can better serve their clients.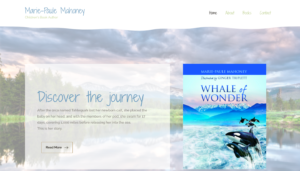 Marie-Paule Mahoney
WordPress, Responsive Design
Marie-Paule Mahoney is a children's book author who wanted a single website to share information about her books. With fun colors and attractive fonts, her new website reflects the theme of nature and friendship as portrayed in her books.
Therapy NJ
WordPress, Responsive Design
Heather Feigin, LCSW needed a website facelift. Her previous website was functional but dated, and she wanted a more modern look with clean lines and and a design that conveyed her professionalism. Her new site is vibrant and informative, clearly conveying her experience and expertise while allowing visitors to navigate easily and find the information they need quickly and easily.
DexterDogUSA
WordPress, WooCommerce, e-Commerce
DexterDogUSA is a local apparel company in New Jersey that needed a website to sell their products. I was thrilled to have the chance to build their site using WordPress and WooCommerce, which has since been integrated with their social media for maximum reach. Business is booming and I'm proud to have been a part of it!
The Training Source
WordPress
The Training Source is a non-profit in Maryland that needed some assistance with a website renovation for their 27th anniversary. With WordPress solutions and some custom CSS to bring their vision to life, their new site is now launched and ready to serve their clients!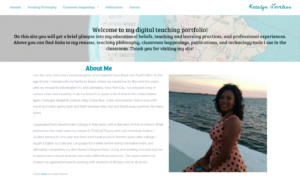 Señora Loveless
WordPress, Responsive Design, Custom Theme
Señora Loveless is a digital teaching portfolio website for a New Jersey educator. The site's purpose is to display her skills and expertise to recruiters and parents in the community. For her site, I customized a WordPress theme with tranquil, beach-inspired colors and the Elementor page builder to bring it to life.
Brian's House
WordPress, Responsive Design
Brian's House is a hospice guest house in Essexville, MI. Their site needed a facelift, so I was happy to help them out! I customized a WordPress theme, streamlined their content, and simplified their navigation. Security and SEO were improved as well. Now they have an attractive site that reflects the service they provide!
Fylo
Static Website, Responsive Design
The Fylo project is a one-page landing site designed by Frontend Mentor as a coding challenge. I coded this mobile-first, with full responsiveness at tablet and desktop sizes.
Accelerate Marketing
WordPress, Custom Theme, Responsive Design
Accelerate is a website for an imaginary marketing company. It's a WordPress site and features a custom theme and custom post and page types. I added responsive breakpoints so that it's mobile-friendly.
Unplugged Retreat
WordPress, Responsive Design
Unplugged is a fictional nature retreat. This WordPress site is coded with HTML and CSS and is fully responsive.