My Work
Cambridge Property Management Services reached out because their website hadn't been changed in nearly 20 years! It was hard-coded and extremely hard to edit. I made them a brand new build on WordPress with a clean, modern look that's easy to keep updated so they can better serve their clients.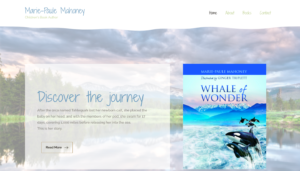 Marie-Paule Mahoney is a children's book author who wanted a single website to share information about her books. With fun colors and attractive fonts, her new website reflects the theme of nature and friendship as portrayed in her books.
Heather Feigin, LCSW needed a website facelift. Her previous website was functional but dated, and she wanted a more modern look with clean lines and and a design that conveyed her professionalism. Her new site is vibrant and informative, clearly conveying her experience and expertise while allowing visitors to navigate easily and find the information they need quickly and easily.
Services
Website Creation / Redesign
Whether you already have a website that needs an update or you're starting from scratch, we'll work together to bring your vision to life. All my websites are hand-coded and completely customized!
Digital Marketing / SEO
A good marketing campaign can be the difference between spinning your wheels and bringing in new customers. Let me use my digital marketing know-how to drive up hits and bring in those sales.
Language Services
Reaching a multilingual audience can be key to expanding your client base. From a simple digital campaign in Spanish or French or a second version of your whole website, I will help you reach even more customers.
Monthly Packages
Let me take care of the details, from updates to tech troubleshooting to maintenance, so you can focus on growing your business.
About Me
After a long career in education, I decided I needed a change. I enrolled in some courses, and here I am! I am passionate about creating clean, responsive websites.
When I'm not coding something cool, you can find me in a random university classroom (old habits die hard!), hanging out with my dogs, or enjoying a good book.